E.O.Wilson Slide Show: Sixth Page
The Relation Between Biodiversity and Habitat Size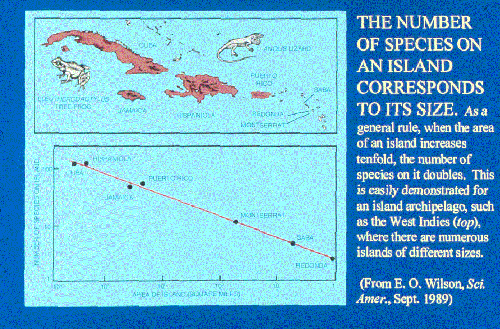 "As you reduce the area of an ecosystem, you reduce the number of species in that ecosystem, as seen dramatically in these first two panels showing natural islands of diminishing size.
Let us get rid of immediately of the notion that all you have to do is keep a little patch of the old growth somewhere, and then you can do whatever you want with the rest. That is a very dangerous and false notion.
I have used the example of the islands in the West Indies, and that is the one to be applied to the natural forest reserves on the land as well. As you reduce the area, the number of species, in this case amphibians and reptiles, that can live in that reduced area indefinitely drops. In fact, the number of species drops rather precipitously by roughly the following rule. A 90% reduction in the area for these organisms to live results in a long term decrease of about 50% in the number of species."